Lasco's Diamond Polishing Powders
This is faceting grade, resin bond, diamond powder. Use the coarser grits (100, 400, & 600 grits) for shaping. Use the intermediate grits (1200, 3000, & 8000 grits) for pre-polishing. Use the finest grits (14000, 50000, & 100000 grits) for final polishing.
For effective use this powder should be mixed into a polishing paste with some type of a carrier. The more popular products are mineral oil or vegetable oil if you like your paste thin, petroleum jelly or vegetable shortening if you like your paste a little thicker, or you can use bees wax if you prefer your paste very heavy. Mix the contents of the 5 carat vial to somewhere between 1 teaspoon and 1 table spoon of carrier. If you use a teaspoon your paste will be more aggressive. If you use a tablespoon your paste will last longer.
Diamond is sold by weight. 5 Carats = 1 Gram. This amount will be approximately 1/2 a thimble full by volume.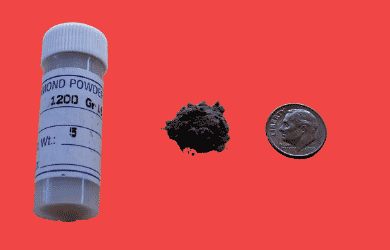 Purchase Diamond Powder in 5 Carat Vials By Size
Click On The Items Below To Make Your Selection:
Need Larger Quantities? Try Our 25 Carat Bulk Packs.
Prefer The Convenience of Premixed Compound?
While it is more economical to mix your own, we also have premixed paste. Our faceting grade diamond is mixed with a petroleum based carrier and sold in a 5 gram syringe.